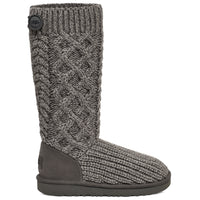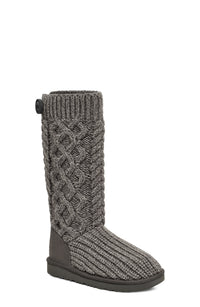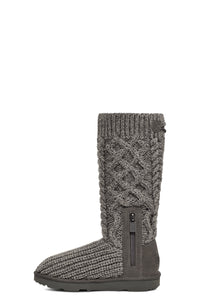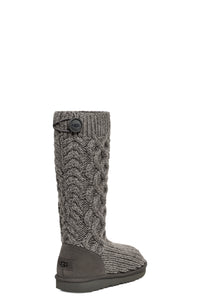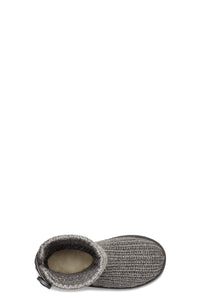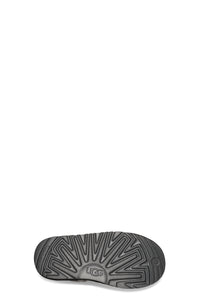 UGG Kids Classic Cardi Cabled Knit Boot
Kids To Womens Conversion
To convert women's sizes to big kids (youth) sizes simply minus 1. If you are a 7 women's, you will fit a kids (youth) size 6.
Style Notes
Details
This snuggly pull-on boot is like a sweater for your leg and features a cable-knit upper with our iconic UGG® braid pattern. A zipper makes it easy to take on and off, and the inside is finished with our traditional soft, upcycled wool blend. The indoor/outdoor sole is made from renewable, rainwater-nourished sugarcane instead of petroleum-based EVA. Pair with the same style in our women's sizes for cute mini-me moments.
UGGplush Lining
Crafted from a proprietary blend of repurposed wool and produced fibers, such as Tencel or recycled polyester, UGGplush gives a sheepskin-like feel with reduced environmental impact.
SugarSole™
The sugarcane in our SugarSole™ foam allows us to reduce dependency on fossil fuels by replacing petroleum-based ethylene, absorbing 1.6 pounds of CO2 for every pound of ethylene replaced. 
Crafted with Responsible Materials
We are on a journey toward a more regenerative world. We are focused on finding ways to reduce our footprint. This product includes at least 40% recycled, renewable, regenerated, or certified natural materials by weight and helps reduce our environmental impact. To learn more, please visit UGG.com/purpose
Cable knit upper
cable knit, Suede heel counter, TPU button, Button and elastic closure, Functional zipper for easy on and off
Medial zipper
17mm UGGplush™ 60% upcycled wool, 40% lyocell lining
17mm UGGplush™ 60% upcycled wool, 40% lyocell insole
SugarSole™ EVA outsole
Woven label with UGG® logo, Heat-embossed UGG® logo
RN 88276